How Apprenticeships Work
How apprenticeships work with NowSkills: A NowSkills digital apprenticeship is a real job, with hands-on experience, a salary where you train and while you work. As an apprentice, you're treated like all the other employees, with a contract of employment and holiday leave.
You'll be paid to train and work at the same time.
You'll be entitled to at least 20% of your paid time training (known as off the job training)
Your training is a blend of 1:1 coaching sessions, classroom, virtual and e-learning and some mentoring by your line manager. It will be a clear sequenced programme of study.
You will have a safe place of work
As a NowSkills apprentice, your employer and our training team will have high expectations for your success and your future progression and your future salary.
We'll provide you with impartial careers advice so that you can make the right decision both before, during and at the end of your apprenticeship
You will learn about British Values and we will work with you on your personal development to help you form a winning positive attitude that will power your future prospects for success both professionally and personally.
How long does a NowSkills digital apprenticeship take to complete?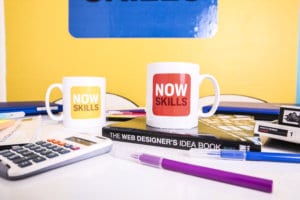 Apprenticeships on average take between 15 months for Level 3 and 18 months for Level 4.  You can complete them more quickly if you do your coursework and it will take longer if you don't!
Some apprentices love their jobs so much they sometimes forget to do their coursework (your tutor will remind you!), but don't forget, your employer will give you 20% of your paid time (not in your time) to study and complete your coursework.
Different apprentices have different roles and different skills, our tutors are trained to support you to get the best from your apprenticeship.
What age are NowSkills' digital apprentices?
Apprenticeships are for any age. However, many of our level 3 apprentices are between 16 – 23 years of age when they begin, with the majority aged 17 – 21. Many apprentices in this age group have left school, college or university or have been working for a year or so.
Our level 4 apprentices tend to be 18 – 40+. This is a challenging qualification and there's a degree of self-study and organisational skills required to complete successfully. You will need a year's experience in the role or a level 3 qualification to be eligible, please ask us for details.
If you're currently employed with an SME employer or a Levy paying employer then it's likely you could be any age and it will depend on the job role you're doing. If you'd like to start an apprenticeship with your current employer, why not contact us to talk through your options?
How does the training work?
It differs slightly depending on the it apprenticeship you're enrolled on. If you're on a Level 3 apprenticeship, you'll attend 6 x 1 week classroom sessions at one of our training centres where you'll train with other apprentices employed by different organisations.  If you're on a Level 4 apprenticeship there's more self-study but also a series of classroom workshops.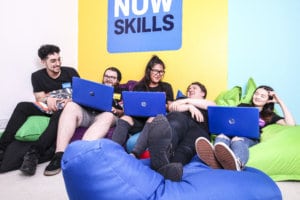 Our classroom sessions are really popular because they are a great way for you to expand your network of contacts, build your LinkedIn profile and really concentrate on your studies away from work with other apprentices who, like you, will have high aspirations and you can support each other.
You'll have an assigned tutor who will come to your workplace every month for a 1:1 session. They'll also meet with your line manager too and review your work to make sure you're progressing to the highest standard you can achieve.
You'll also be invited to virtual classroom sessions, receive a login to e-learning courses and have access to your work in a special cloud portfolio system.
We're here to support you for day to day questions and if you have a Safeguarding concern, we'll be there for you.
How much will I pay for my digital apprenticeship?
You pay nothing. However, you do need to invest your time and effort.
This isn't university there's no course fees and there's no student debt for you to pay off later. Digital apprenticeships cost employers between £11,000 – £18,000 depending on the apprenticeship standard you are enrolled onto. That your new employer will be paying for your tuition, your qualifications.
Remember: These are committed regional employers investing in YOU
You'll also receive a wage, the apprentice minimum wage is here. However, NowSkills works with employers that pay higher than the minimum wage. As a digital apprentice, you are valuable to your employer today and will be even more valuable in the future once you're qualified. NowSkills collaborates with committed regional employers to offer you an opportunity and we will have high expectations for your success.
How do I start a digital apprenticeship?
Firstly work out which apprenticeship is right for you. Is it a digital apprenticeship you should be doing? Perhaps have a look at some of our apprentice case studies. Then, have a look at our careers pages so that you can work out which IT apprenticeship to apply for.
When you're ready, register with us.
Conclusion and recap
Is an apprenticeship right for you? Well to recap:
Your training is valuable, worth between £11,000 – £18,000
You pay nothing towards your training costs
You'll have no student debt at the end
You'll be paid to train and work
You'll have a real job with a real contract of employment
You'll receive real face to face training
You'll build a professional CV and a network of contacts
You'll earn real qualifications
Once qualified in the digital sector, your earning potential will be above average
Finally
When you start your apprenticeship its hard work, especially at first, so keep going and make it to the end. You'll have some tough days and some amazing days, like in any job.
We will work with you to build your resilience and British Values so you can overcome obstacles and succeed. Once you complete, the qualification is yours forever. Its something to be proud of and a springboard for a fantastic digital career.
An apprenticeship is a journey. A journey to your future.
At NowSkills, we will be with you every step of the way.