JOIN THE SQUAD
At NowSkills, we have loads of IT success stories from our Apprentices and we've helped hundreds of young people to kickstart their IT careers and get moving with inspiring and challenging IT roles. We're there every step of the way from your initial contact to your interview to your sign-up day, training classes, mentoring, tutoring and beyond. We've already screened your employer to make sure they're suitable for you and by using our talent matching techniques, we're sure to find you the perfect fit! That's why our average pass rate for IT Apprenticeships has been at 92% for the past 3 years.
OR MAYBE TRY THE B TEAM?
Remember that when you're talking to NowSkills we're IT Specialists. Why does it matter? Well, imagine an Apprenticeship company with load of roles in for say…customer service, project management, business administration, hairdressing, baker, dental nurse and many others….if you phone and ask for  IT Apprenticeship chances are the person you're talking to, although probably really warm and friendly and competent, won't be an IT specialist and not a geek (like us) and perhaps if they have a few non-IT Apprenticeship nearby to you do you think they might try and "sell" you into those roles? Hmmm….maybe, we're not sure….
The Geek Test
The NowSkills squad is full of winning IT Apprentices who have tried the rest and come to the best (sorry about that). When you phone us and you say you're the Geek we're looking for that's not enough for us, because we want to know what level of geek you are because we do it every day – we want to match you to the perfect employer. Are you a high-level coder? A wicked blog-writer or a hands-on techie? What are your skills? Communication? Problem solver? Eye for design? – Ahh we know just the IT employer with your sense of humour, you'll fit right in – get on board and begin your rocketship IT career!
This matters because we want you to complete your IT Apprenticeship with NowSkills. Our IT specialists have already visited all our employers and understood what they want. We are NOT going to place a high-level coder into an imaging-based Digital Marketing role or a computer hardware geek into a Social Media role – it's just not the way to do it. Tell us your favourite things about It and we'll place you where you want to be.
We care…
Did you know we "turn down" quite a few employers looking for IT Apprentices. This is because their roles just aren't good enough for our squad. The best employers offer top opportunities to IT apprentices so if you're serious about a proper IT career, trust the NowSkills squad to deliver. That's why 92% of our IT Apprentices complete their IT apprenticeship and got on to further their careers.
BIG FISH, SMALL POND
Colleges and National "Supermarket" style Apprentices providers can do a great job.
But being huge isn't what NowSkills is about.
We do have the same government contracts and have to deliver our training to at least the same minimum levels (we go beyond) and of course, you'll receive a fully funded training and the same certificates when you pass.
Each year we have approximately 100+ IT Apprentices in our squad completing their courses. That's fewer Apprentices, fewer tutors and a smaller, specialist closer-knit IT team to support you in your career.
You're not one of the hundreds of Apprentices on a long list each month. We care about your progress and you're a big "percentage" of our squad. This is why we're going to take really good care of you: we want to work with you, we know who you are and we'll help you achieve your personal success.
Why? Because one day you'll be the boss and when you want an IT Apprentice for your own squad, we want you to call us again! Find out more.
How many programmers does it take to change a light bulb? None. It's a hardware problem.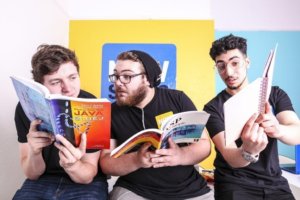 A BIT MORE ABOUT THE JOURNEY WITH NOWSKILLS
Earning and Learning
100% of our Apprentices are in a real job from Day One of their Apprenticeship. Equipping them with valuable real-life workplace skills. NowSkills recognise this can be a big break from the norm for some Apprentices, particularly those who have just left school. This is why we allow a 1-2 week adjustment period for Apprentices. This is so that the apprentices settle into their new roles before commencing IT skills development training.
IT Apprentice Support
At the start of an Apprenticeship, Apprentices are assigned a tutor who will be their main NowSkills contact point. The assessor will keep in regular contact with an Apprentice: for example, making workplace visits and acting as an intermediary with the employer. The assessor will also act as the first point of contact for any issues an Apprentice may have.
Future Prospects
To bring IT Apprentices to the very best IT job opportunities we have forged links with leading employers across the region and we're extremely proud to remain local. In most cases, Apprentices can expect to be placed in an IT department with a local employer. Many employers go on to employ their Apprentices on a permanent basis following successful completion of an IT Apprenticeship. 92% of NowSkills graduates go on to find a job in the IT industry as a whole or go on to further education.
A Course With a Difference
If you choose NowSkills IT Apprenticeships you are not just choosing a government approved course, but a unique industry-leading qualification. We want our Apprentices to have the very best start in their new careers so we include a range of vendor qualifications in every Apprenticeship.
These qualifications, fully funded by NowSkills, are industry-leading and highly respected by employers. We believe they are essential to your future success in IT. Giving you the edge against other IT Apprentices and opening doors in the industry.
Apprenticeship and Beyond
From the start of your journey with NowSkills, all Apprentices have access to free recruitment advice and guidance from our friendly and experienced student support team. Whether you want some tips to improve your CV or advice on what to wear for an interview we're here to help!