More Advice for apprentices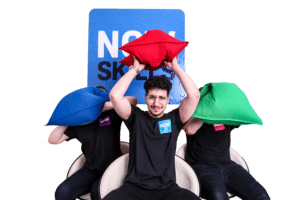 Are you currently an apprentice looking for help? Maybe you're a concerned parent (See our information for Parents, Guardians and Carers). Either way, our NowSkills' IT apprenticeships team are always happy to help.
If you're looking for advice on interviews don't forget to visit our Careers Advice and Guidance page.
We understand that some of your concerns aren't always apprenticeship related. They may be to do with housing costs, travel, and even shopping! No matter what the problem, NowSkills IT Apprenticeships are always happy to help.
If you have safeguarding concerns, please visit our safeguarding section.
Who doesn't love a discount?!
So let's start with the fun. Apprentices can apply for an NUS Apprentice Extra card to receive amazing discounts from a variety of different leading retailers within the UK. From health and fitness to travel, you can have access to many different discounts at a very small cost! Click here for more details
Travel/exploring
Many of our IT Apprentices don't drive when they start their apprenticeship. If you are using public transport to get to your IT Apprenticeship, we understand that it can be a pain when it comes to costs. Luckily for you, we have the solution – a 16-25 Railcard! Not only will you save 1/3 off your ticket cost, but once you've purchased your card, you will also receive offers from the National Rail's partners. Click here for more information.
Claim your free Transport for Greater Manchester bike or bus pass
Are you a new Apprentice due to start your new IT Apprenticeship job soon? Why not claim your free refurbished bike or your 28-day bus pass or Metrolink ticket? All Apprentices living in Greater Manchester are eligible for this scheme. You can use your bike or travel pass to travel to work or training.
Download Free 28 Day Bus Pass Doc
Money
As an Apprentice, you might not be earning as much as your friends who have gone straight into full-time employment. With the national minimum wage probably lower than you'd like, you may need advice on budgeting and making other financial decisions. Firstly, your bank may be able to offer you some guidance, but other guidance can be received from other services such as the Citizens Advice Bureau (CAB) or the Money Advice Service (MAS). If you are worried about your money in regards to debt, the National Debt Line can help offer you free advice.
Housing
Looking for a place to live or just wondering what you could be eligible for?
Bullying
NowSkills is committed to taking precautions to put a stop to bullying. This is why we take our safeguarding policy so seriously. If you are a bullying victim finding it difficult to speak to your friends/family, then there are organisations that can help you with some advice.
If you are experiencing bullying as a NowSkills apprentice, you can discuss this with your tutor or contact a member of our safeguarding team.
Additional Learning Needs/Social Needs (ALN/ASN)
There are many organisations that offer Apprentices with disabilities or special needs guidance and advice. Here are a few which may be useful to Apprentices and employers:
Health and Wellbeing
There are many websites available that also offer help and advice on health and emotional issues. This could be something an Apprentices may experience. Some of the below may be useful if you are having any problems: