Digital Marketing with Artificial Intelligence
Searching for a Digital Marketing apprenticeship that gives you more? Learn how to use the latest tools and key principles, including AI bots, all the leading social media platforms, marketing analytics, app integrations, SEO, PPC, content marketing, lead generation and much, much more.
Funding band | £11,000
This cost is paid by the employer, for SMEs there is up to 100% funding available. For Levy employers, you can find out more here. Apprentices will not contribute to this.
Digital Marketing masterclass workshop modules included: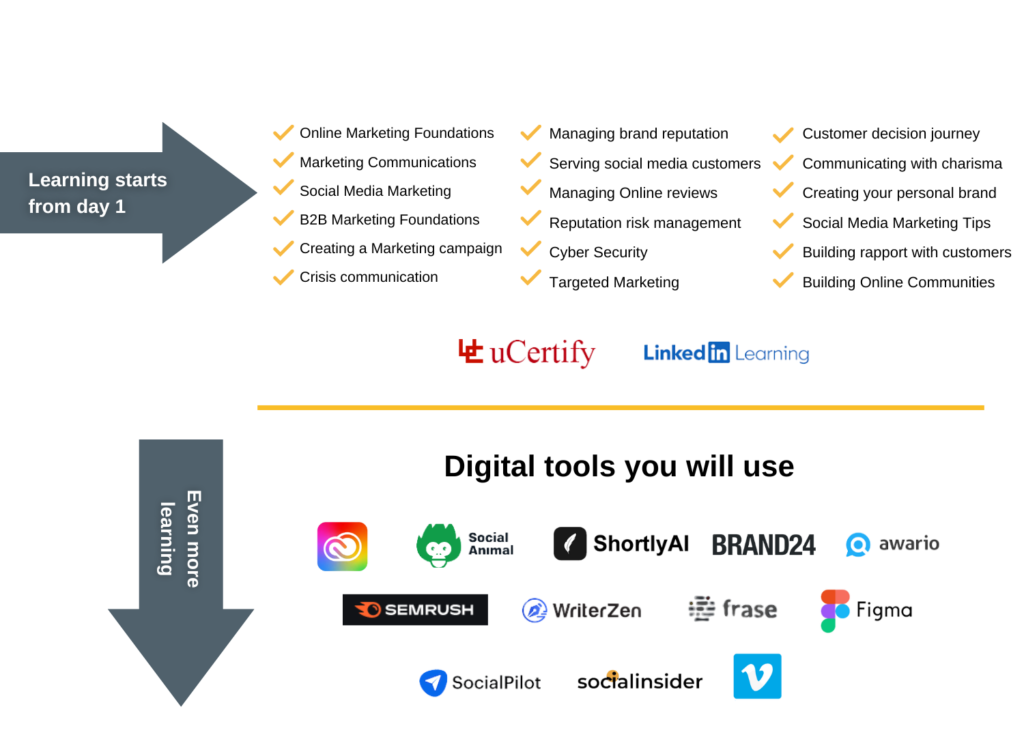 Duration: 4 Days
Safeguarding & Prevent Duty awareness

Health, Safety & Wellbeing in the workplace 

Team roles & motivation 

Communication &  Functional skills 

Business etiquette 

Equality, Diversity & Inclusion 

British Values 

Mental health & personal resilience 

Developing your own professionalism
 Duration: 4 Days
Digital Adoption: adoption models, benefits & challenges
Digital Careers – roles in industry; future-proofing careers; behaviours & standards expected
The World Wide Web – modern web technologies, Web 3.0, social & professional networking, communicating effectively
Internet Technologies – infrastructure; protocols; DNS; emails; cloud computing
Objects, Active Content & Languages – introductions to: C, C++, Java, Javascript, Python, PHP, CSS3, C#, R
Databases – data modelling, SQL
 Emerging AI tools, benefits & risks
Cyber Security, data protection, secure protocols, ethical & legal issues, copyright
Duration: 4 Days
Logic in Coding 

Common Languages CSS, HTML, Java, and PHP and delve into practicing HTML and CSS

Compatibility of Code consistency in the design code, Web Content Accessibility Guidelines (WCAG)

Hardware and software components of the web

Web Technology

Internet protocols 

Search Engines
Duration: 4 Days
Planning: research, plan, execute and review a digital marketing strategy 

Communication &

Customer Service

Research & Interpretation  

Tools and techniques: 

Technologies, Digital Tools, Implementation and Operating Effectively. 

Portfolio development: 

Problem Solving, Specialist Areas Data and Digital Analytics. 

Portfolio case study: Finalise at least one piece of portfolio evidence (case study)
Duration: 4 Days
Search engine marketing/

optimisation:

Pay Per Click, Web Analytics, and Metrics

Content creation / Tools / Posting

Information security, organisational policies, threats to digital information, protect data, cybersecurity, cybercrime

Data Protection Act/GDPR

Audience & competition:

Google Analytics, Awario, Social Insider, competitor analysis and social listening

 
Duration: 4 Days
Project Management, Project life-cycle phases, goals, scope, budget, timelines; project planning, risks, benefits realisation

Managing tasks & resources efficiently, tracking progress, stakeholder management & effective communication 

Agile Project Management methodology: Scrum, Kanban, digital tools, closing projects

Teams – motivation, groupthink, resolving issues/conflicts

Practical Application – apprentices will plan a small-scale theoretical project, relevant to their apprenticeship course. Working in small groups, they will produce a full project plan, presenting it at the end of the module to other attendees.
Interested in this Digital Marketing apprenticeship? 
Artificial Intelligence for Digital Marketers
Artificial Intelligence (AI) is an in-demand innovation that can help supercharge your digital marketing and carries out tasks better, or more quickly than humans. From a strategic viewpoint AI can make marketing strategy more efficient by targeting the right customers in the right way. In terms of content creation, AI can create written and image content that converts, with text drawn from a networked analytics web. If you're using Influencers, AI can help you identify who might match you brand, and AI can be sued to identify customer at risk of being lost, lapsed or potential new prospects.
The NowSkills Level 3 Digital Marketing apprenticeship explores the possibilities of AI for a digital marketer, with hands on introductions to leading AI platforms and user cases that can make a real-world impact with their employersand to close any digital skills gaps. Digital Marketing and AI is evolving, this NowSkills course will help an apprentice to kick start their relationship with AI.
Flexible, blended learning
Employer-led and flexible, with no two apprenticeship journeys ever the same. We blend the best live online and physical classroom teaching experiences supported with the latest self-paced e-learning. Our monthly 1:1 teaching sessions are flexible, delivered live online or in person, depending on what your organisation needs.
We include additional Social Enrichment Sessions and celebrated speakers join us monthly in our Expert Series. Your apprentices also have the opportunity to achieve industry recognised certifications, beyond the scope of the apprenticeship.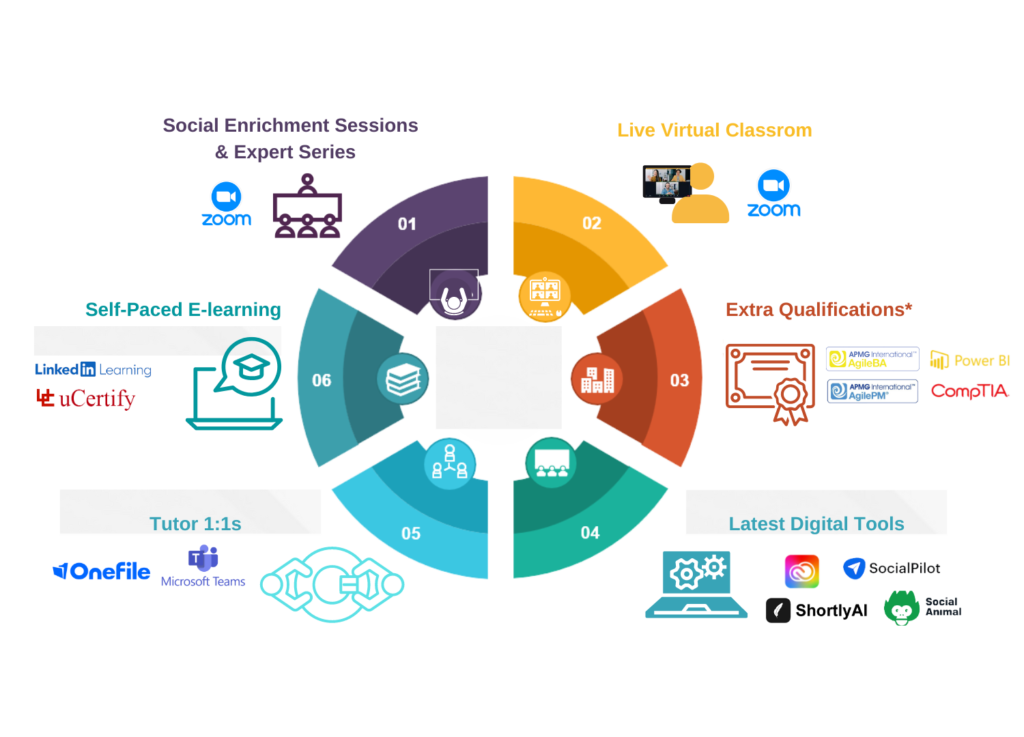 Becoming a digital marketer apprentice is ideal for anyone who enjoys designing, and creating digital marketing campaigns, using technology and social media tools.
If you like being creative, working as part of a team and utilising digital tools, and want a career in marketing, then the Digital Marketer apprenticeship could be for you.
Throughout the apprenticeship, you will learn the fundamental skills, technical knowledge, attitudes, valuable industry experience in a business environment, practical experience, and behaviors to embark on a rewarding IT & digital career.
The roles you might expect to be applying for after your 12-15 month Level 3 Digital Marketing apprenticeship are Digital Marketing Assistant, Digital Marketing Executive, Email Marketing Assistant, Content Co-ordinator, SEO Executive, and many others.
Technical skills and knowledge you will gain
Written communication – applies a good level of written communication skills for a range of audiences and digital platforms and with regard to the sensitivity of communication, further building academic knowledge 

Research – understanding through modules, analyses and contributes information on the digital environment to inform short and long-term digital communications strategies and campaigns

Technologies – recommends and applies effective, secure and appropriate solutions using a wide variety of digital technologies and tools over a range of platforms and user interfaces to achieve marketing objectives and audience satisfaction  

Data – reviews, monitors and analyses online activity and provides recommendations and insights to others
Customer service – response efficiently to enquiries using online and social media platforms

Problem-solving – applies structured techniques to problem-solving, and analyses problems and resolves issues across a variety of digital platforms

Analysis – advanced understanding of creating basic analytical dashboards using appropriate digital tools

Implementation – builds and implements digital campaigns across a variety of digital media platforms with work-based projects

Applies at least two of the following specialist areas – search marketing, search engine optimisation, email marketing, web analytics and metrics, mobile apps, Pay-Per-Click, and uses social media tools effectively

Digital analytics – measures and evaluates the success of digital marketing activities

Interprets and follows –

− latest developments in digital media technologies and trends using social media tools
− skills in communication 
− marketing briefs and plans
− company defined 'customer standards' or industry good practices for marketing
− company, team or client approaches to continuous integration
− Can operate effectively in their own businesses, their customers and the industry's environments
Entry requirements vary depending on the employer's requirements.
Minimum 5 GCSEs with grades 9 to 4/A* to C, including English and maths.
Apprentices that don't have GCSE English and maths at the required level undertake mandatory Functional Skills as part of the apprenticeship to achieve Level 2 prior to End Point Assessment – this is at the cost of the employer.
Before an apprentice can reach the threshold for the gateway phase, apprentices must have successfully achieved the following exams:

City & Guilds Level 3 Award in the Principles of Coding

CIW Internet Business Associate

City & Guilds Level 3 Certificate in Digital Marketing Business Principles
What qualifications will you gain?
Digital Marketing Qualification Level 3 (awarded by the Institute for Apprenticeships & Technical Education)
City & Guilds Level 3 Award in the Principles of Coding
CIW Internet Business Associate
City & Guilds Level 3 Certificate in Digital Marketing Business Principles
Our accreditation partners: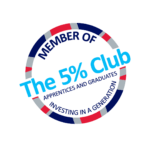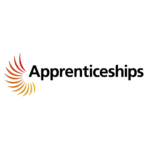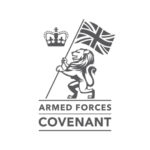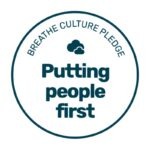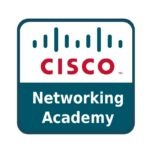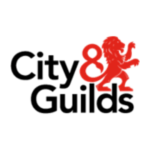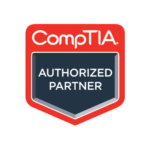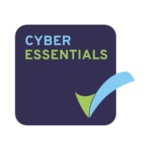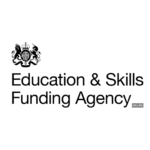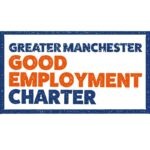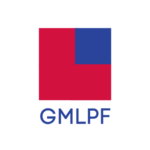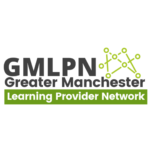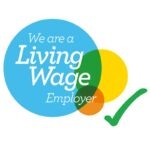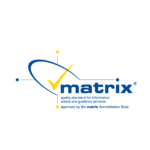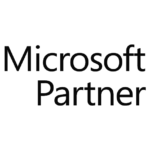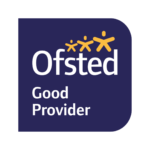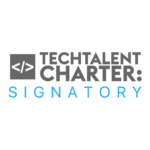 Potential future roles as a Digital Marketing apprentice:
These take place monthly, either at the workplace or live online with the tutor. 
Teaching delivery sessions, in areas of training need agreed with the tutor




Professional Development Reviews (PDRs), which employers must partake in. These current terms allow for a meaningful discussion between all 3x parties about the apprentice's achievements, areas for improvement and progress made to date, to aid a successful career 




Updating of the Professional Development Plan (PDP)




Provision of ongoing careers education, information, advice & guidance




(CEIAG)




Feedback on an apprentice's work from skills coach 




English, maths, and wider  digital relevant skills development




Support in understanding and applying: safeguarding; fundamental British values; health, safety, & wellbeing; and equality, diversity, and inclusion
In addition to tutor 1:1s, all apprentices and employers must also partake in a monthly Professional Development Review (PDR): 
A meaningful discussion about the apprentice's achievements 

Identifying areas for improvements, and agreeing a consequent target plan 

Looking at progress made to date 
Ongoing professional development
Apprentices will be guided by a NowSkills tutor and their workplace supervisor/mentor throughout the duration of the digital marketer apprenticeship delivery. For a level 3 apprentice, this must equate to 20% of their working week they aren't attending training in the centre, and will likely consist of:
+ Mentoring sessions with the nominated suitable employer mentor

+ Training in the workplace, relevant to the standard

+ Producing/collating evidence for the apprentice's summative portfolio

+ Work shadowing
+ Industry visits

+ Attendance at competitions

+ Online learning

+ Studying or researching and teaching delivery