CORPORATE APPRENTICESHIPS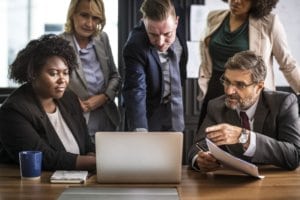 Corporate Apprenticeships are popular with larger employers who want to benchmark the level of competence of a group of digital apprentices.
Benefits of a Corporate Apprenticeship programme:
The employer can train a group of learners simultaneously. The training may coincide with the intake of several new starts at once.
The employer can bring the classroom element of the training to their premises. If the employer has a dedicated room NowSkills can transform it into a classroom and the learners can enjoy private classes.
NowSkills are able to add bespoke training content to the apprenticeship. We will, of course, have to cover the requirements of the course, but where possible we will tailor. In cases, this may be using your own in-house software (in a test environment).
Levy paying employers are able to allocate larger amounts of their levy investment into a larger programme, This sometimes enables the employer to measure the levy ROI more effectively.
Working alongside some of the UK's leading businesses, NowSkills are frequently asked to create bespoke IT Apprenticeship programs tailored to an employer's specific IT training needs.
Have you considered training your own Apprentice but are not sure where to start or what is available to you and your business? How will it benefit my business? How much will it cost me? We can answer all your questions – that's what we are here for. As the UK's leading experts in Apprenticeships, NowSkills can provide advice and guidance on sources of funding and support.
With the skills gap currently damaging businesses, Apprentices may be the best option to help your business avoid this current major issue. A report by Tech Nation in 2016 stated that 43% of digital tech businesses say a shortage of skilled job candidates is limiting their growth. This leaves almost 25,000 under-performing businesses – ouch! Don't be in the 25,000 and do something today!
With a bespoke Apprenticeship, we can place IT Apprentices on your workforce or train existing staff to your exacting standards. Enrolling a current employee on a NowSkills Apprenticeship programme can be very beneficial to a business – you already know the person and their potential, relationships are already built, and it saves time with the application process. If you're interested in one of your current employees to be put on one of our Apprenticeship programmes, why not check out our page on Enrolling Your Employees for more information, or get in touch with us today!
In safe hands
NowSkills can work with your specific requirements to develop and deliver bespoke Apprenticeship programmes for your business.
Safe in the knowledge your Apprenticeship is in good hands you can leave every aspect of training to us. From course creation to training delivery to Apprentice and employer aftercare. NowSkills will be with you the entire journey. Additionally, our team are always here for support and guidance for both you and the Apprentice. With our trainers having many years of experience within IT, they are familiar with the learning process, having to build up IT careers themselves. Furthermore, we will comply with funding guidelines and educational legislation without compromising the individuality and demands of your business.
The result?
A bespoke Apprenticeship is a proven way of improving commercial performance and also efficiency. Whether you are looking to upskill existing employees with an industry-leading qualification or to expand your workforce with dedicated IT professionals a tailored Apprenticeship is an ideal way to deliver training underpinned by your own commercial values. It is believed that Apprenticeships will increase the wages for young learners as their developed skills are more desirable.
Who can get an Apprentice with NowSkills? 
It's not just specifically IT related businesses that can hire Apprentices through us. Almost every business has a relationship with technology, whether through the website, social media or needed cyber security. According to studies, 41% of jobs within tech economy exist with traditionally non-digital businesses such as E-commerce Managers, Data Analysts, In-house Digital Marketers and many more. Furthermore, all of these roles help assist the running of businesses on a daily basis. In many cases are the most crucial elements of the business.
Both levy and non-levy payers are able to hire Apprentices into their businesses – the funding just works slightly differently. Not heard of the levy? Why not check out our levy pages to see more information on how the funding now works and also what the levy is. Don't worry, it is approximately only 2% of UK business that will pay into the levy. So you may not need to pay these funds.
Create your programme today
Overall, does an Apprenticeship programme sound like what you and your business needs? To discuss your bespoke Apprenticeship programme contact us for a free, no-obligation discussion today.
Statistics link: https://www.targetinternet.com/just-how-big-is-the-uks-digital-skills-gap/