Your leading Infrastructure Technician training provider 
Digital Technology has changed businesses forever, and it's imperative that you stay in the loop. NowSkills trains the next generation of IT professionals that are waiting to help you grow your Digital team. Get ahead of the rest in 2019 with your own Infrastructure Technician Apprentice.  
Why NowSkills is your preferred partner for Infrastructure Technician 

Delivering quality Digital Apprenticeships since 2015

94% success rate with our Digital Apprentices (July 17 – Aug 18)

17 days average to fill new Digital Apprentice vacancies

We receive over 300 digital Apprentice applications each month

Supportive and Experienced Digital Apprenticeship tutors

Off the job training includes classroom and online learning

We have a direct ESFA Government contract to deliver our own funded and Levy Apprenticeships

We don't resell anyone else's Digital Apprenticeships

Call us today on: 

0161 714 1410 or 0151 539 9090
How the Infrastructure Technician Apprenticeship is funded…
| | | | | |
| --- | --- | --- | --- | --- |
| Employer size or payroll | Apprentice age at enrolment  | Employer Contribution costs  | ESFA Funded Training costs  | £1000 Additional Payment from ESFA  |
| Levy employer | 16, 17 or 18 | 100% | 0% | Yes |
| Levy employer | 19+ | 100% | 0% | No |
| <50 employees and <£3m payroll | 16, 17 or 18 | 0% | 100% | Yes |
| <50 employees and <£3m payroll | 19+ | 10% | 90% | No |
| >50 employees and non levy payers | 16, 17 or 18 | 10% | 90% | Yes |
| >50 employees and non levy payers | 19+ | 10% | 90% | No |
*Unsure about the Business Analyst Apprenticeship funding and understanding whether you're a Levy paying company or not? Get in contact with us or read more here.
Who can enrol on the Infrastructure Technician Apprenticeship?

Essentially, anyone can enrol on the Infrastructure Technician Apprenticeship as long as they have a C or above, or equivalent, in their English and Maths GCSE. If you're an employer looking to enrol an existing member of your team onto the Infrastructure Technician Apprenticeship then send us a callback request here and we'll be in contact as soon as possible.
What an Infrastructure Technician Apprentice will do for your business
Having an Infrastructure Technician as part of your Digital team will benefit your business in many ways. Here are just a few of the ways in which an Infrastructure Technician Apprentice can help grow your business upon completion of their apprenticeship: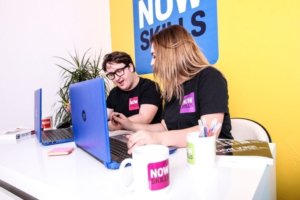 Communication: works both independently and also as part of a team and following the organisations' standards; competently demonstrating an ability to communicate both in writing and orally at all levels, using a range of tools and also demonstrating strong interpersonal skills and also cultural awareness when dealing with colleagues, customers and clients during all tasks
IT Security: demonstrates the necessary skills and behaviours to securely operate across all platforms and areas of responsibilities in line with organisational guidance legislation
Remote Infrastructure: effectively operates a range of mobile devices and securely add them to a network in accordance with organisations policies and also procedures
Data: effectively records, analyses and communicates data at the appropriate level using the organisation's standard tools and processes and to all stakeholders within the responsibility of the position
Problem-solving: applies structured techniques to common and non-routine problems, testing methodologies and troubleshooting and analyses problems by selecting the digital appropriate tools and techniques in line with organisation guidance and to obtain the relevant logistical support as required
Workflow management: works flexibly and demonstrates the ability to work under pressure to progress allocated tasks in accordance with the organisation's reporting and quality systems
Health and Safety: interprets and also follows IT legislation to securely and professional work productively in the work environment
Performance: optimises the performance of hardware, software and Network Systems and services in line with business requirements
Can explain the correct processes associated with WEEE (the Waste Electrical and Electronic Equipment Directive)
Professional recognition- Overall, this Apprenticeship is recognised for entry onto the register of IT technicians confirming SFIA level 3 professional competence and also those completing the Apprenticeship are eligible to apply for registration.