Welcome to NowSkills
At NowSkills we collaborate with committed employers to deliver engaging digital apprenticeships to the next generation of digital talent. You can read more about Our Vision here.
We accelerate rewarding digital careers by creating a stimulating, sequenced and engaging learning culture that not only develops our apprentice's technical skills but also develops their attitudes and behaviours to equip them with essential skills for life.
We are a privately owned independent training organisation with a contract to deliver apprenticeships from the Education and Skills Funding Agency.
Our reputation, the quality of our training, the progression of our apprentices with our employer partners are the things we value.
We have a wide range of apprentice ages: Some learners are starting out in their careers and some are more experienced seeking a recognised apprenticeship qualification to further progress their professional development. Whatever your age or experience our training teams have the skills and experience to support, stretch and challenge every learner.
We aren't generalists
We specialise only in delivering digital apprenticeship standards so that we can focus 100% of our course development, quality systems and recruitment strategy on digital. Our experienced operations team excels in providing high quality and challenging digital apprenticeships with specialist digital trainers employed specifically to deliver each digital area we focus on. We constantly review, reflect and seek to improve our performance.
Your success is our success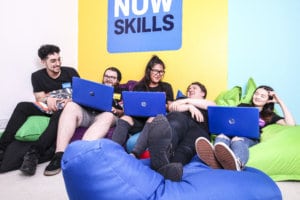 We have ambitions to deliver the best digital apprenticeships.
Our team aims to be the best by progressing our apprentices in successful rewarding careers, collaborating with employers to build challenging high-quality apprenticeships that develop their digital talent and by supporting and training our own employees to ensure that NowSkills keeps delivering high-quality digital apprenticeships that are stimulating, valuable, rewarding and enjoyable.