IT Apprentice Case Studies
We are proud to share with you our latest successful IT Apprentice Case Studies! Are you unsure about the process when applying for an IT Apprenticeship? Or are you more curious about the IT Apprenticeship process with NowSkills? Check out our case studies – see what our IT Apprentices' have to say about their experience with NowSkills!
IT Apprentice Case Studies – Chris
Chris was placed on the Infrastructure Technician Apprenticeship with us for a company in South Manchester. As an IT Support Technician, Chris was able to learn new skills in IT and problem solving as well as improving his communication skills. Congrats to Chris the overall IT Apprentice journey – he's worked extremely hard and we're buzzing for his next step.
Check out Chris' IT Apprentice Case Study
IT Apprentice Case Studies – Rachel
Rachel was put on a Level 3 Digital Marketing Apprenticeship within a week. She has gained a lot of skills editing the company's website and writing blogs for them and she keeps on improving day by day. Rachel work hard every day and has been a great apprentice from the very start!
Check out Rachel's IT Apprentice Case Study
IT Apprentice Case Studies – Arsham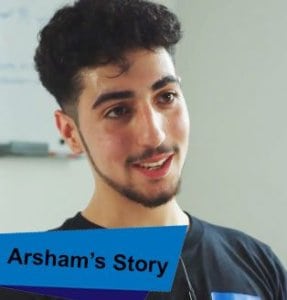 Arsham landed an IT Technician role in a school, located in Manchester. He worked towards his Level 3 Infrastructure Technician qualification and also achieved an MTA and CompTIA qualification. We're so happy to hear that Arsham has been offered a full-time position at the school – a huge congrats!
Check out Arsham's IT Apprentice Case Study
 IT Apprentice Case Studies – Connoll
Connoll started working as an IT First Line Helpdesk in an amazing company! We helped him turn his high school interest into a career. He received Microsoft and CompTIA qualifications and he is now off to do great things in life!
Check out Connoll's IT Apprentice Case Study
SHARE