Welcome to an exciting future with the training company that cares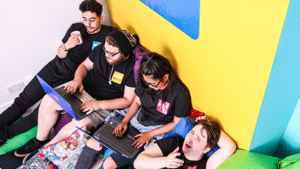 At NowSkills, we've been delivering apprenticeships since 2013. The progression of our apprentices and the success of our employer partners are core to our vision. Read more about Our Vision here.
In order for us to deliver Our Vision, we need a winning team of colleagues who care: Care about our apprentices, Care about our employer partners, Care about our reputation and Care about each other's well-being.
We want to deliver the best digital apprenticeships and to do that, we need a team of talented, caring and motivated employees to make it happen.
Our positive organisational culture will encourage you to develop your own skills and protect your well-being, whilst enabling NowSkills to achieve its vision. Many of our team members are long service, a valuable dividend of our positive culture.
Every colleague is valuable to our vision, whatever stage of their career they are at. More experienced colleagues take pride and time in exchanging ideas and helping to develop their colleagues' skills. Simultaneously, less experienced colleagues are expected to have a passion for self-development and continuous improvement that will enable them to achieve their career and life goals.
Make an impact
If you're the kind of person who can make an impact in education, we could be the employer you've been looking for. We're expanding quickly and we need talented individuals to help us achieve our vision.
If you're a trainer, tutor or skills coach, we offer you a professional, organised culture that will enable you to deliver learning your way, whilst working within our systems. If you have ideas about where we can improve, we'll listen, reflect and if they will do improve us, we'll implement them. You'll work closely with your colleagues to evolve our curriculum that will equip our apprentices with the skills, knowledge, attitudes and behaviours to embark on meaningful and rewarding careers.
If you're an experienced sales, marketing or industry professional, your drive enthusiasm and commitment to self-development and teamwork will help you achieve your goals and enable our apprentices to achieve theirs.
Our dynamic and helpful teams will progress you with a comprehensive training programme and support circle that gives you time and incentives to learn about this exciting industry.
Whatever role you apply for, during the interview process, we'll insist you spend time meeting your potential new colleagues so you can get a feel exactly what our culture is all about and ask them the questions you need to know about working life at NowSkills.
Make a positive difference to people's lives
Working with apprentices and enabling them to embark on meaningful and rewarding careers is a legacy you will be proud of. Our teams take pride in helping apprentices and their employers achieve success whilst at the same time progressing their own careers.
Do we sound like your kind of employer?
If you think that you would like to be part of our team, please have a look at our various roles and apply today, or if you would prefer a confidential discussion on the opportunities available here at NowSkills you can contact our internal recruiter Andrew Jones in confidence.
Alternatively, for added confidential approaches, you can LinkedIn with our Managing Director and start a conversation.
Our current opportunities are: